About Us
Perspective and Philosophy
In our ongoing research on organizational effectiveness, we have noted the growing strength of five key trends with regard to leadership development and strategic management:
Leadership development activities are being highlighted as vital components of the strategic development of a firm, especially with regard to the recognized need for continuous improvement and learning.
Organizations are increasing their investment in leadership and organizational development efforts to help facilitate change and revitalization.
Organizations are focusing more on organizational development than on individual development as they seek to enhance their ability to adapt to the global competitive environment.
In order to leverage their investment in learning, organizations are using fewer external development opportunities and are focusing instead on development initiatives specific to the organization and more tightly linked to the realities of the workplace.
Organizations are focusing on linking learning and development to performance through a greater reliance on techniques such as action learning, leader-led development, and project-focused development.
Our Planning and Analysis Frameworks
One of the major challenges faced by organizations is the need to link leadership and organization development objectives more closely with strategic and business-performance targets. The model below, one of the tools from our Direction and Alignment (DNA)™ assessment process, can help you design development initiatives that make an impact on your organization's performance and effectiveness.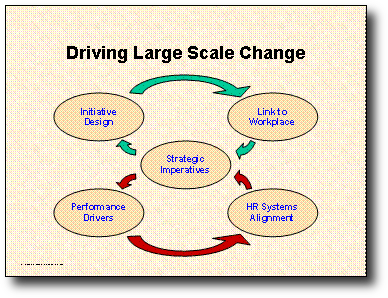 Most organizational development initiatives operate in the upper or green loop of the model. The best of those initiatives are rooted in the company's strategic imperatives, the business drivers deemed crucial to the success of the firm. Based on those imperatives, an initiative design is created to develop and reinforce the capabilities and skill sets deemed necessary to the achievement of those imperatives. In order to ensure that the lessons and messages of the initiative become part of the fabric of organization, thereby driving organizational performance, efforts are made to link the initiative to the workplace through processes like action learning or leader-led development.
Unfortunately, this approach addresses only half the problem. Strategy is not a static activity. It is a dynamic process that must be changed and adjusted as the environment and the organization interact. In the same way, leadership and organization development processes must be dynamic. Whether or not development initiatives will make a substantive impact on the long-term performance of the organization, whether they will foster a culture of performance and change in pursuit of strategic objectives, is directly related to the bottom or red loop of the model.
An organization's strategic imperatives are the drivers of performance and capability development for the long-term. In reality, those strategic imperatives must be translated into a set of short-term performance drivers that focus the development agenda on a particular set of capabilities at a given point in time. Examples might be the implementation of six-sigma, a push for top line growth targets, a drive for operational efficiency improvements.
For these initiatives to have an impact on sustainable performance improvement, they must address the most pressing concerns of the organization. And, they must evolve as over time. For example, after operational efficiencies are achieved, the organization may wish to move to global expansion. When global expansion targets are achieved, the organization may wish to layer on a new business development thrust. The focus of leadership and organization development processes must evolve as the organization evolves. Otherwise, we develop yesterday's leaders for tomorrow's organization.
In order to embed new skills and perspectives into the organization, human resource management systems must be continually realigned with the evolving business, leadership and organization development agendas. What gets measured is what directs focus, what gets rewarded is what shapes behavior. In order to drive performance today and build leaders for tomorrow, the organization must continually assess and evolve measurement and evaluation processes. These processes, in turn, drive progress toward the strategic imperatives which are further reinforced through timely, relevant development initiatives.
Our goal is to work with you to create integrated approaches to leadership and organizational development that address both loops in the model, to help you design initiatives that are timely, relevant, make an impact, and get results.
Collaborating With You
Based on an assessment of your organization's opportunities and challenges, Vicere Associates, Inc. will work in tandem with you to:
Clarify core objectives for development based on the strategic imperatives of the firm, enabling you to more effectively target key audiences; define critical competencies and capabilities; build networks to leverage performance; enhance communication and teamwork; refine organizational culture; and implement competitive strategies.
Select methods and approaches to be used for development, ensuring consistency with the strategic imperatives and overall learning/development objectives. This could include team and/or task force assignments, action learning projects, leader-led learning, classroom education, competency identification and development, among other options.
Build, maintain and assess strategic partnerships with a select group of strategy, leadership, and organization development resources to help leverage and round-out internal resources. We are strong advocates of leader-led learning in which client company executives play a major role in the development process. But we also know the value that "fresh eyes" can bring to development initiatives. Our goal is to help you build a network of outstanding, committed partners.
Link development processes with human resource practices. To leverage the impact of your development investment, we'll work closely with you to ensure your initiatives are tightly linked to your organization's performance metrics and human resource management infrastructure, including reward systems, recruitment and selection procedures, and succession and executive resource planning processes. This final step ensures relevance and impact for any development initiative.
Contact us to further discuss our perspective and process. We would be happy to share ideas with you.